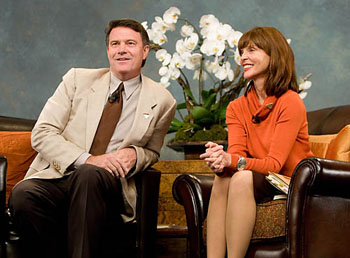 Click here to view a photo slideshow by David Sand from Part 3 of the "You Are The Blessings" webcast series with John Morton and Leigh Taylor-Young, September 9, 2008.
Here we were at the 2101 Building once again in Santa Monica. It was time for the world wide webcast with John Morton, DSS, and Leigh Taylor-Young as host. The subject for the webcast was "Love and Be Loved." This was the third in a series of webcasts based upon John Morton's most recent book, Timeless Wisdoms by John-Roger, DSS — John Morton offered a closing Blessing (he's famous for this).
Next, and a surprise to all, John handed out over-stocked VHS and cassette tapes of previous lectures and seminars at very reduced prices. A lot of fun energy was generated, a little like the surprises of Christmas morning. Refreshments were then served in the downstairs reception hall, and we left feeling blessed and rejuvenated.
To watch the Archive of this webcast as well as Part I: Know God and Know Who You Are and Part II: Learn and Let Go, go to www.msia.org/archives.
To purchase
www.theblessings.org.
Join us for A Live Webcast with John Morton and Leigh Taylor-Young based on John'Roger's book "Timeless Wisdoms" on Tuesday, October 21st, 2008 at 6:30 PM PDT at 2101 Wilshire Blvd., Santa Monica, California and on the internet at www.msia.org/live.