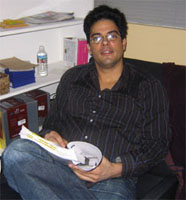 I want to share with our friends and family that "Spiritual Warriors," the film, is in its 8th week of editing. Editing takes days, and nights sometimes, however it's coming along and it's looking like a fine film.
David Raynr (Producer/Director) is working with Nimrod Zalmanowitz (Editor), while I do paper work and keep J-R up to date on our progress. Every day is a blessed day to create with these guys, having J-R give us the Light and Love for this beautiful film.
Coming Soon!!!!!!! — "Spiritual Warriors.
To read articles and see photos of the filming of "Spiritual Warriors", click here.
Copyright