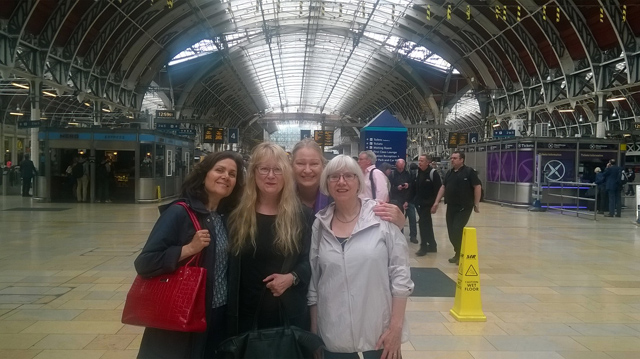 I remember listening to a John-Roger seminar a long time ago when he talked about flying into New York. As he looked out of the window he saw a light haze over the city and wondered what it was. Looking more closely he realised it was Light columns that the ministers in NY had been regularly planting. As someone who was fairly new to MSIA at the time I found this extraordinary and have always remembered this.
Years later J-R, accompanied by a large group of MSIA'ers, went to the Middle East on a peace training (PAT IV). Planting columns of Light was a part of the process.  Unable to go on the trip, I decided to organise my very own mini version of this. So I printed up a flyer, photocopied it and posted them out!  (You may have gathered this was way back in prehistoric times before personal computers and emails!) I called it PAT III I/2 (three and a half)  and it read "For those who cannot  afford the time or money to go on PAT IV then join us for a day in London planting Light columns!" Now I did get a rap over the knuckles for using the PTS trademark name in vain, although the staff member was obviously amused at the same as telling me off!
Hiring a minibus, eleven of us set off for a day visiting many of the landmarks in London including Buckingham Palace. As we silently planted a column of Light in front of one of the palace gates, a policeman came directly up to us and asked me "What are you doing?" I said we were just silently praying and that seemed to satisfy him.
Next came the Houses of Parliament followed by our last stop of the day Westminster Abbey. As we walked into the church, the Sunday service was coming to an end and the choir was singing a beautiful rendition of Amen which lasted for a few minutes. An angelic end to our day of service. A group of rather exhausted travelers with very sore feet retired for a nice cup of tea with renewed respect for those who went on the peace trips for a week or more.
Fast forward to two years ago. I heard about a group in Sydney planting columns of Light in Centennial Park (which had recently installed a labyrinth based on the one in Chartres Cathedral). It reminded me of the minibus excursion in London as well as many other projects in Sydney.  However, it was quite a shock to realise just how long ago they all were. This was the inspirational kick I needed to consider organising something in London again. But what? Then in a flash – thank you Spirit – I heard inwardly "the Circle Line." This underground tube line around Central London contains most of the major main line stations that connect to the rest of Britain, France and Belgium, Heathrow and Gatwick International Airports, as well as many of the tourist attractions in London. So Light Up London was born. Our small group started at Paddington Station travelling around the 25 stations of the Circle Line and arriving 80 minutes later back where we started.
It was around this time that I heard J-R had said that we could ask the Light to reinforce all Light columns everywhere for the highest good. Which I thought was astounding. I thought of all the years J-R and John Morton and many MSIA'ers have been planting Light columns all over the world and we can reinforce and regenerate them by asking the Light to do this? I searched for a direct quote from J-R on the subject so I would be accurate in relaying the information but was unable to find anything. So I wrote to John Morton for clarification and this was his response.
"I see the intention as what is important, rather than the exact words about reinforcing Light columns.  Yes, it makes perfect sense that requesting the Light to reinforce Light columns would work."
– John Morton
I asked John Morton for further clarification on planting Light columns (bless John he has been incredibly supportive, loving and patient with me considering the number of emails!!).
"Consider that in the Christ, the messianic consciousness that is the Light of God, that you are a physical column of Light. The key is being conscious of this Light into the physical activation, the anchoring, so that where you walk, where you go, is hallowed ground.  We are talking also of degrees as in magnitude.  The more you are capable of holding and transmitting the Light, the more that Light is placed through your openness and intention to be the Light, to place the Light, and to send the Light.  Where two or more are gathered in the Name, the Sound that is the Light, the Word of God, then the source that is the Light, the source that is God incarnate, is in your presence and all who are gathered in this Way, this Truth, this Love of God."
– John Morton
So every month or so a small group of us got together and sat on a train going round in circles planting the Light columns. Every time the train stopped in the station we would silently plant a Light column. Considering the size of London,  many folks think that we would be a rather large group. In fact the opposite is true and often there are just a dedicated three or four of us on these trips. Linda Simpson has been on all the projects along with myself and one time there was just the two of us. All ministers in UK are invited to send Light and some do SE's at the same time which really assists. However we did find it quite heavy going – especially at those stations which were a hub for several train lines. So a couple of months later when it was going to be just the two of us again I decided that the cavalry was required. The good news about having lived in several countries and being very social (I was not known as God's little gypsy for nothing) I know lots of MSIA'ers around the world. So I sent the information along with a request for Light to USA (several states), Canada, Australia, New Zealand, France, Germany, Spain etc. And also to the Traveler John Morton. Well what an amazing response I had.
"I recently heard from Sheila Grace Harvey about the monthly Light Up London journey UK ministers are taking on the Circle Line, placing Light columns at each station along the route.  That in itself seemed like such a great idea and then I learned from her that J-R had shared that we could send Light to Light columns all around the world to regenerate and replenish them.  Wow!  I shared this at our local Ministers Meeting last month and this month several ministers shared about amazing experiences they had while sending Light to Light columns everywhere.  Inez and I send Light to Light columns everywhere, every night.  What a profound and simple ministry".
– Russell Bishop
"I've been doing the re-energization of the Light columns as Spirit directs ever since I received your e-mail, which made me realize how much more we can all be doing now—and need to be doing now with J-R's passing–to bring further stabilization and harmonization to this planet".
– Ashtar Athena
"Sending lots of Light to this project, Sheila…it is so important.  Light Columns are important.  I truly believe they are destined to allay the negativity we are amongst, in a God given way that is so effective that we can stop warring.  Our power is what we anchor for the Traveler and the Christ, as the Traveler, and as the Christ.  This is part of our work and why we are here. I love what you are all doing.  Thank you." – Leigh Taylor-Young Morton
"I was walking with friends on the 'More Mesa' of land in Santa Barbara in March of last year.  It was an awesome day; the temperature was perfect, the high grass moving in the breeze, poppies and other wild flowers were abundant, a long snake slinked across our path, heron hunting, and whales spouting close to shore.  I took a few pictures to capture the beauty.  Then I looked at my pictures and notice the one of the coastline had light lines streaming down.  At first I thought it was from the sun, but after looking up in the sky saw the sun in a different location.  When I looked at the picture a second time, I noticed the 'location' of this stream of light was an area where J-R had planted a Light Column on my brother's ashes that I had placed in the ocean previously that day.  That seemed kind of far-fetched to me, so I mentioned it to my friends and they felt for sure the picture revealed J-R's Light column.   I decided to claim that perspective for myself as well."
– Cleora Daily
"One of my blessings is that I live in Cannes in the South of France. The ambiance in Cannes is naturally very soft and sweet. Not only does the annual Film Festival take place here but many other international congresses as well – property, music, television, advertising, tax, show jumping. Visitors come from all over the world for their events. During the quieter winter months, I have planted and re-energised Light columns along the length of the Croisette. Any visitor going to a beach restaurant will be blessed by the Light.  It is my vision that congress delegates – and other tourists – may take their blessings back to their home countries. I love this way of supporting individual and world peace – from my doorstep".
– Anne Naylor
The response was just so amazing. Linda and I really noticed the difference with the energy and how much Light and grace was present. One of our ministers, Gloria Carter who could not join us physically, was doing SE's at the same time. She shared with me her experience of tuning in on this and previous Light Up's.
"I called in the Light and offered myself in service, asked to be connected to those physically in London and those around the world who were joining in. Asking as always for the highest good of all concerned.
The first time we did this I saw a huge diamond filling the centre of the Circle Line and radiating Light from all its facets. The second time I saw a huge flat white snowflake, its shape was exquisite, it slowly settled on the ground. From its outer edges smaller replicas of this snowflake spread out around the world. The third time I saw a huge multi coloured fountain of Light in the centre. Each time a Light column was planted at the stations smaller fountains appeared. As this descended into the earth, nature spirits and water spirits appeared and were so excited to receive this Light to assist them with their work.
The last time we all joined together is not so easy to put into words but I will do my best.  I feel my words will only give an artist's outline drawing of what I saw. I have no words that can describe its true beauty and magnificence.
The first thing to appear was a huge column of golden Light which settled on the ground as a circle of Light. Within this large golden column, a silver template started to descend and gently touched the ground. I then found that I was now chanting my tones at four different place and then returning to the Ani Hu. The four places were all churches – St. Pauls Cathedral, Westminster Abbey, St. Martin in the Fields and St. Bartholomew the Great. Suddenly in these four churches, columns of pure white Light descended and anchored deep within the earth. Slowly a golden pyramid descended through the large golden column and settled on the silver template, the four white columns becoming the supporting pillars on the outside corners of the temple. A spiral of white Light then started to come down the sides of the pyramid and then returned, as they passed they touched and points of intense pure white Light burst forth like small atoms igniting. Then on top of the pyramid a large purple crystal heart, like an amethyst appeared. The heart on the top of the pyramid now looked like a pulsating heart its energy going in self-perpetuating circles around the planet.  The words I then heard were "A temple of living love has once again been anchored into London. If your heart is nudged by spirit to be of service to this Light temple then continue to place it into the Light, especially the four anchor points in the four churches.
Since the completion of this event I have continued to send the Light. The four pillars now do not just look like a beam of sunlight with particles floating in them they now seem more  tangible. They look like columns of pink and white seen through marble on the outside, and inside the particles now look like miniature golden flames of Light moving with a direction and purpose.
I am so grateful to have had the opportunity to take part in this blessing for London and the planet."
– Gloria Carter
Armed with this information we decided that we would plant columns of Light at the four churches. The first trip we did included Westminster Abbey and St Martin in the Fields and as well as The Houses of Parliament, Trafalgar Square, The Temple Church (built by the Knights Templar in the twelfth century), Law Courts and Inns of Court. The next trip we included St Pauls and St Bartholomew the Great (one of the oldest parish churches in London) as well as Smithfield Markets, Bank of England, Stock Exchange, Royal Exchange, Old Bailey and other Courts.
So we always start at Paddington Station and we may not do the whole circuit of the Circle Line rather we get on and off so we can plant Light in different areas of London. And sometimes we take buses so we plant columns at all bus stops on the way. We finish back where we started – completing the circle. Calling in the Light at the start and end of our journey we ask for all Light columns to be reinforced and regenerated, the Light columns to be joined together and also imagine a web of Light around the planet surrounding it and filling it with Light for healing and peace for the highest good of all.
Light Up continues in London and there are so many places where ministers are regularly planting Light columns, including New York, which inspired me to get involved. (Thank you guys – how many years have you been doing this now? Amazing service!!). Hopefully more will catch the Spirit and we can Light Up the World.
Last words and thanks to our amazing Travelers who support and love us no matter what:
"What if we were told that this world is, in fact, the Garden of Eden, and that we have the opportunity to replenish and restore it? What would we be doing, if we understood what that really means?  I am speaking of the way Paradise would be flourishing in our midst.  We would be in a kind of Paradise.  Doing this would transform this world.
It starts with us, as a 'portable paradise', which is another way of speaking of us, as a 'walking blessing'."
– John Morton
"Each action you take, each Light column you place, each moment that you stoop to raise another or to send God's Light to another being, that action resounds throughout the Universe, and the love and the Light available to all is increased. You have chosen to do a mighty service. I am most grateful."
– John-Roger
VIEW THE PHOTOS

For more information on how to plant Light columns click here.