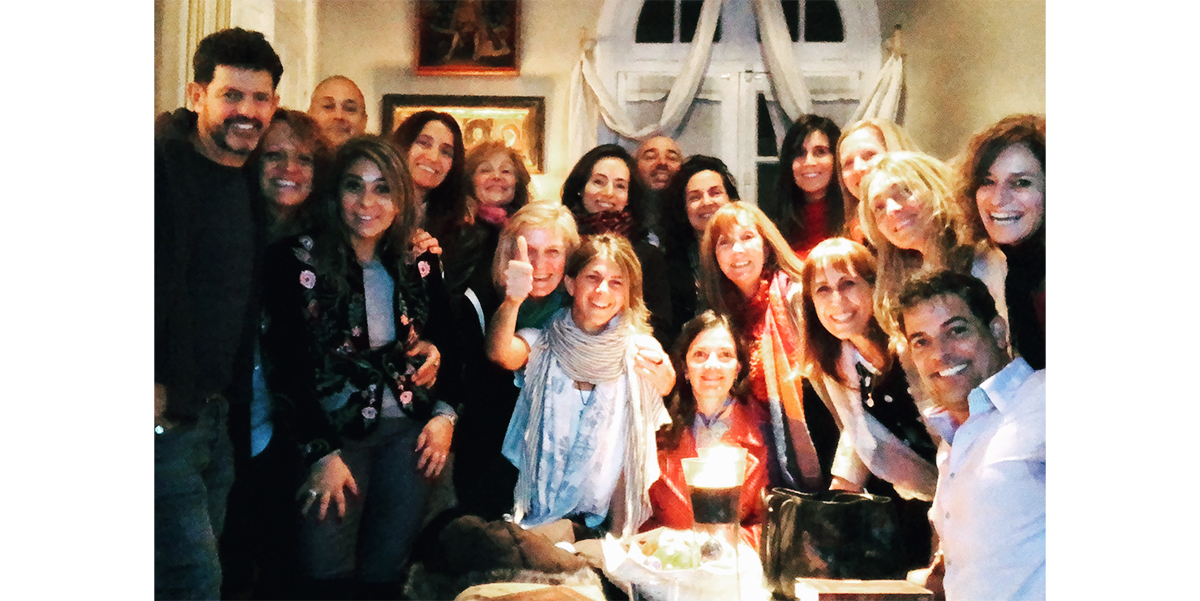 ---
As soon as my book, The Love of a Master, was translated into Spanish, I scheduled the 2018 El Amor de un Maestro Jesus Garcia ministry tour to South America and Mexico, which took place in June.
Kicking things off in Bogotá, Colombia, I had the greatest time working with Alberto Arango. He and Diego Forero helped to set up the J-R Marathon, and my book event was also very cool. I did counseling sessions there and it was really good to see J-R's work continue on in Bogotá.
Next came Chile and it was amazing. I made a point of staying in the homes of people who wanted to host me. It was incredible to be one-on-one with some of these long-time Ministers and Initiates! Older but not aging, they're still very young at heart. They come packed with a lot of power, through the ministerial authority and being J-R's and John's initiates. It was really uplifting to sit in Satsang with these people.
Whether it's a J-R video marathon, Mystical Traveler movie screening or The Love of a Master / El Amor de un Maestro book signing, the format doesn't really matter. These events are all just an excuse to get together, because where two or more are gathered, there's the Spirit. That's when J-R shows up.
My experiences were very, very clear on the inner and on the outer. In particular while travelling, every time I leave Los Angeles, I start to be aware of John-Roger being next to me and leading the way, as always. I don't carry anything special, we ALL do. So when we get together it begins the Satsang. A meeting of truth.
For an overnight side trip, I flew across the Andes from Chile to Mendoza, Argentina, where I was hosted by Eduardo Vera. The experiences I felt there were beyond words. Eduardo was able to gather many who came for the J-R marathon. John had approved some initiations, and it was incredible to be with the fire of Mendoza. The Initiates and Ministers there give that community an intense John-Roger energy that pulls people in— they're interested in MSIA and what we do.
I'll be returning to Argentina—this time, Buenos Aires—in November. In 2013, Nat, J-R and a small crew participated in the Mar del Plata film festival with the Mystical Traveler movie, supported by Graciella Borges, Juan Cruz and Kate Kirby. I look forward to seeing and working with them again.
Back in Chile, I was hosted by Remy, and spent time with him, Verónica, Pilar, and so many people in Chile who I just love so much. I remember going to Chile in 1986 to do a film, then returned many times after that with John-Roger. I think our last visit was the last time I saw Alex Padilla; we were staying in the same hotel.
From there, I headed to Mexico City, where Graciella hosted me and Marcos hosted the J-R marathons, Mystical Traveler film and El Amor de un Maestro book event. I spent quite a bit of time there, and it was really good to connect with that place. I walked around the many districts and got to know Mexico City very well. A group of us went to the Pyramid of the Sun— Graciella, Claudia, Marta Soto and some friends. Led by Claudia, we climbed the pyramid, called in the Light, and did a meditation early in the morning, which really set the tone for what was to come. I felt J-R very much present in Mexico City. Just trying to follow in the Master's path.
If you watch the Mystical Traveler film, there's a scene where we are obviously looking through the eye of a camera, and the person filming is John Morton, who says, "And here is The Pyramid of the Sun." Then you can see John-Roger walking up the Pyramid of the Sun. It is very inspiring.
When I got home, my mother wasn't feeling well, so I flew to visit her in Homestead, Florida. Turns out that was simply the catalyst to get me down there. My mom immediately felt better, of course—J-R's got her back. She was out of the hospital, feeling great, and we were able to spend a couple of days together.
I'd like to take a moment to acknowledge my mother, Nicia Ferrer, for all the great things that she has done over the years. I never knew exactly what she did for MSIA when she worked on staff. But now, wherever I travel in Latin America or Miami, people constantly stop me and ask, "How's your mom?" "How is Nicia?" And I'm just blown away by the impact she made in such a short time and how important it is for a Latin representative to be in the U.S. at Prana, representing our community in MSIA. And my mom was that person for a while. I saw her go to work, but now I've experienced the tremendous effects of it.
While in Miami, I was hosted by many MSIAers. I attended Luis Mario's home seminar and a fantastic MSIA meditation. It was incredible…the energy was on fire! Just recently, Skyler Patton and Debbie Roth had traveled there to support the community. I noticed that the attendees were primarily Latino, which was much different than I remember from the 1980s. Terilee Wunderman and a few others were there, too. I came away very impressed by the way that Luis, Teri and others are keeping the Miami community going. I want to shout out…I love Miami!
I love my MSIA communities and I'm here to ignite, promote, and share John-Roger within all of us. One of my primary tasks with Jesus Garcia Ministries is to travel to places where the MSIA staff doesn't go, and perform initiations and ordinations on behalf of John-Roger or John. Even if it's just one person in an isolated area, like when I took a four-hour side trip to Greece when I was recently in Europe. Generally, I travel on my own dime. It's fantastic! Sometimes people sponsor me to do that; I'm open to receiving as much as possible. And I love it.
Finally, I made it to the Conference of Heaven on Earth, probably one of the best conferences since J-R passed. I'm a USM grad currently in the Consciousness, Health, and Healing program, and soon will get my 10-month Certificate of Completion after the lab in August. It was great to have Ron and Mary Hulnick facilitate the workshop and to have John Morton share.
On Saturday of the two-day workshop, I raised my hand and had a cathartic moment. Thirty years ago, January 1988 at a relationship workshop at the Sheraton Universal, I shared with John-Roger. Earlier, he had come up to me and asked, "What's your name?" I responded, "Jesus Garcia" and he goes, "No, what's your other name?" "Oh, Nick Corri, I'm an actor," and he said, "That's it. They know you as Corri," and I was like, "Who is 'they?'" J-R said, "In the Akashic records." He was just a fisher of men. From that point, I was marked. And in my sharing that day, I said that I wanted to work with him. I asked, "Can I do acting and still be spiritual? Can I work with you and do what John does?" This is before John Morton was a Traveler, he was sitting in the back. J-R goes, "Well, go talk to John about that" and I did. Long story short, 30 years later, 26 years with John-Roger was amazing.
The Conference of Heaven on Earth was incredible. Everything was on fire, mostly Inside myself. Navigating through the passing of J-R has not been easy for me. Sure, it's challenging for a lot of his Ministers and Initiates. But in particular, for me it's still daunting. It's hard. It's crazy. But when I travel, I get to connect with him inwardly and live in that. And it's so rewarding, especially if I have Sound Current experiences with John-Roger in the inner. When I hear him talk, I've got 26 years of John-Roger's voice in my head and it's like a jukebox. Every move I make I hear the advice. And so, onward.
Light ahead to my upcoming travels in Europe and leading a trip to Israel for the first time since J-R passed, celebrating John-Roger's 84th birthday. God bless.
VIEW THE PHOTOS