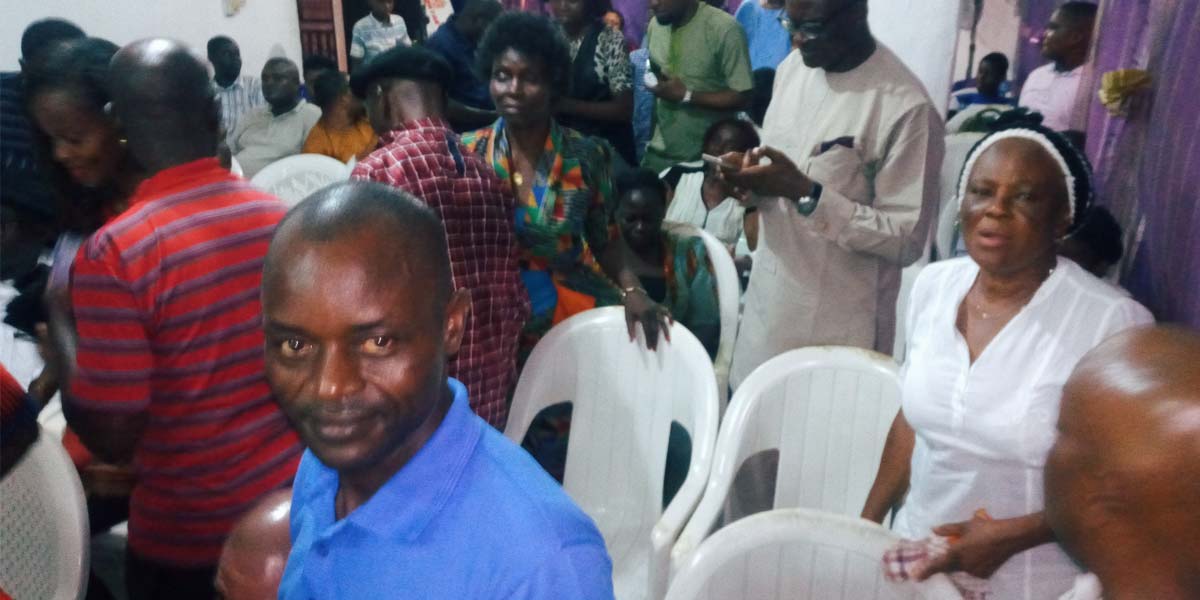 I had a privileged one-on-one session with Traveler John Morton (TJM) and Leigh Taylor-Young (LTY) back in June 2018, during his yearly 'pilgrimage' to Austin, Texas. That was when TJM 'recruited' me to help facilitate his first-ever direct live webcast to Nigeria. My heart said "Yes!" without hesitation, and so did my mouth. Thus began a 4-month journey that culminated in the Saturday, October 20, 2018 event; the next edition of which we are already looking forward to.
After that initial meeting with TJM, I had another meeting with Vincent Dupont at Conference, with inputs from Laren Bright and Sherie Wylie. We added a little more flesh to the bones of my initial discussions with TJM, and I was ready to start executing right after Conference.
I started with a core Nigerian team of Prince Iwuoha (based in Port Harcourt), and Kasim Balogun and Asian Brown Umoh (both based in Lagos). After several hours of phone calls, video chats, and text messages, we were able to confirm to LA that the overall plan is workable in Nigeria. Next, I brought in about 13 more MSIAers spread across Nigeria to broaden the scope of reach, and help spread the word in their local communities.
Thanks to Julie Lurie and her incredible team at NOW Productions, we had a successful test webcast on Wednesday, October 17 at 6am Nigeria time (Tuesday, 10pm LA time for Vincent, Julie, and crew; 12 midnight for me in Texas). This was as close as we got to the proverbial burning of the midnight oil. Of course, as some of you may recall, not all of the lessons of the test transmission carried through to the D-day. Remember poor Vincent coming up to the podium a few times to, very gently, remind our Nigerian friends how to handle their equipment for best possible transmission? But hey, who is judging, right? To be fair to our Nigerian family, the lag in transmission between Skype and the web made the situation considerably trickier and more out of their control. We will definitely do better next time because the only way to go from here is up!
Overall, I am happy to declare this inaugural experience a resounding success. I am honored to have had this front-row seat that enabled me to witness the constant evolution of TJM's idea about this event from inception all the way through D-day (and I suspect it has continued to evolve ever since). Very special thanks to all those who made it happen (too numerous to be named in this little piece); particularly local group leaders in Nigeria who made sure that people who could not set up the viewing on their own were provided venues for group participation. I am aware that some of you often do this at your own personal expense, and I pray that God will reward you in His own way. To those of you who very desperately wanted us to see your faces and groups on Skype but did not get a chance, I apologize, and want you to know there is going to be a next time. To all MSIA ministers around the world who tuned in to participate in the webcast and hold the Light for the Nigerian community, I say: "Thank You! We appreciate you all!"
To our very own Traveler John Morton, I say "thank you for your special love for MSIA Nigeria." As difficult as we sometimes (often?) make it for you to love and serve us to your heart's content, please know that we love you. We are committed to getting it right this time around, and we are fired up already in anticipation of your next in-person visit to Nigeria (been too long, Brother J!). Just make sure to bring Miss Leigh! Between now and your in-person visit, we anticipate some more webcasts, and we know there is a lot of work for us to do as individuals and as a community…until we start functioning as members of one tribe: The MSIA Nigeria Tribe! So help us God.
I am the heart and soul of MSIA Nigeria because Nigeria is the land of my birth, and my first point of contact with the teachings of the Traveler. As the soul, I am free. As the heart, I am still beating; and I am beating clearer, stronger and louder. Can you hear me now?
Babalola Chris-Rotimi
Houston, Texas